Join us as a force for good
The Sargent Shriver Leaders Circle is a core group of mission partners who provide vital leadership to NPCA and who donate at the $1,000 level and beyond. The true value of Shriver Circle members goes beyond what they give materially; they exemplify the leadership that the Peace Corps community needs to reach its full potential. 
Benefits include:
Exclusive newsletters with impact updates from NPCA's President and CEO
Invitations to Shriver Circle special events across the country
NPCA's President and CEO will personally visit you while in your area
An invitation to attend the leadership summit with NPCA's Board of Directors and other Shriver Circle Leaders to provide guidance and strategic direction for the organization
An invitation to the special Shriver Circle lunch at NPCA's annual conference, Peace Corps Connect
NPCA Sargent Shriver Leaders Circle Designations:
Founder's Level: $25,000 and up
Platinum Level: $10,000
Gold Level: $5,000
Silver Level: $2,500
Supporting Level: $1,000
How to Join the Sargent Shriver Leaders Circle
Joining the Sargent Shriver Leaders Circle is easy. You can donate online by clicking the donate button below. We also accept checks, IRA distributions, stock gifts, corporate matching gifts and more. To learn about these additional ways to give, click here.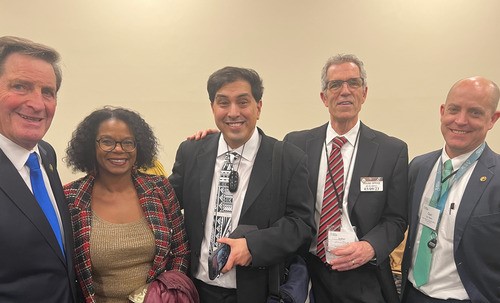 Donate

Make a Sustaining Gift
There are many ways to join the Sargent Shriver Leaders Circle. You can make a monthly gift of $84 or a quarterly gift of $250 by selecting the donation frequency on our online form. You'll help ensure we have dependable resources to support our mission.
Donate by Check
Please make your check payable to "National Peace Corps Association" and mail it to our address listed below. Please include your name, mailing address, phone number, and/or email, so we can provide a tax receipt and show our gratitude for your support.
National Peace Corps Association
20 F St. NW
7th Fl
Washington, D.C. 20001
Shriver Leadership Summit
Held during Peace Corps week in early March and in conjunction with NPCA's National Days of Advocacy, the annual Shriver Leadership Summit, convenes the Peace Corps community's core stakeholders to acknowledge and recognize Shriver Circle members' leadership in achieving our mission. The summit provides members with an opportunity to help shape upcoming initiatives and gives them exclusive early access to information and developments in the Peace Corps community.
Interested in lending your leadership to the Peace Corps community as a member of the Sargent Shriver Leaders Circle? Email Dan Baker at dan@peacecorpsconnect.org to learn more.