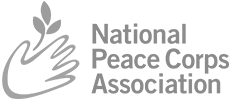 In establishing the Peace Corps, JFK spoke of the "great common cause...of bringing to man that decent way of life which is the foundation of freedom and a condition of peace." Today, people continue to be confronted by war, poverty, disease and a changing climate, and now when our own country is experiencing divisiveness, intolerance, and fear—that "great common cause" is more urgent than ever.
Support for NPCA and our partnered campaigns will deepen the Peace Corps communities' global impact by empowering members and groups to champion that "great common cause." From advocacy for a bigger and better Peace Corps to supporting sustainable international development projects, we are building a better world dollar by dollar. Join us, and be a part of our community of changemakers.
Interested in Receiving a Grant from NPCA?
If you're a PCV, RPCV, or member of an affiliate group and would like grant funding from NPCA's community fund, please complete a grant expression of interest here.