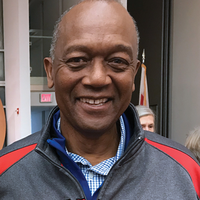 NPCA asked Haskell Ward why he supports his greater Peace Corps Community. His response: "Amazing Impact."

Haskell Ward's international career began with Crossroads Africa in Kenya which led to his Peace Corps service in Nazareth, Ethiopia. He built his international career developing African and Middle Eastern economic development strategies for the Ford Foundation in Lagos, Nigeria. He served as New York City's deputy mayor during the Ed Koch administration and as deputy assistant secretary for Africa under Secretary of State Cyrus Vance in the Carter administration. Ward later worked on Africa energy and mining issues for Global Alumina and spent four years negotiating submarine broadband high-speed internet services for Seacom Corporation in Mumbai, India and among governments on Africa's east coast from Cape Town to Cairo. His last professional position was as senior vice president at Black Rhino Group, a company that specializes in investment in African infrastructure.

How was your Peace Corps experience in Ethiopia?
It was not very different from what it was like for me as a poor African American boy growing up in Griffin, Georgia. The level of poverty I experienced in Ethiopia and the living conditions people were facing in Ethiopia were like my growing up in my small southern town. I was intrigued by the cultural patterns but even back then the basic norms of behavior in Ethiopia didn't shock me as much as it might have shocked other volunteers.

What were the challenges you faced?
My two-year Peace Corps teaching experience in Ethiopia was one of the most important experiences of my life. Having grown up as a poor African American in the American South made me more comfortable with the poverty and underdeveloped conditions I encountered in Ethiopia. On the other hand, it was difficult for Ethiopians to understand that I was an African American because they had met very few African Americans in their villages in 1963. They were curious but welcoming at the same time. The fact that I spoke more than rudimentary Amharic often led to confusing experiences such as when going through security checkpoints. The police never believed that I was not Ethiopian. I found this to be the case in other African countries as well in the early 60s. This was never an issue for white volunteers.

What were your fondest memories during those years?
The richness and diversity of the Ethiopian people and culture remain my most prized memories of my Peace Corps years. The food, the music, the beauty of the country and people made for lasting attractions and endowments in my life. As a volunteer, I made a conscious decision to spend as much time as possible with Ethiopians, especially in their homes, and because of this I developed lasting relationships with them which I cherish to this day. I ate in Ethiopian homes as much as I ate in my own home. I found this cultural affinity and acceptance to be a very valuable learning experience both in Nazareth and in other places around the country. I attribute some of the openness toward me with the fact that I didn't think I was superior to Ethiopians because I was an American.

What about your life in Nazareth?
It was a dusty no-paved-street little railroad town outside of Addis on the rail line to Djibouti in an Oromo area where the new prime minister is from. They now call it Adama. There was sunshine there 365 days of the year and it was a very dry, hot town. I made phone calls the same way I did in Griffin. You rang the little knob on the side of the phone and you got central EthiTelecom downtown. They asked what number you were calling, 23 or 24, and they would connect you.

Do you keep in touch with Ethiopians?
Oh, yes. Ethiopians remain some of my closest friends. After the Peace Corps I went to graduate school at UCLA and Ethiopians were my roommates. By and large some of my strongest relationships have been with Ethiopians. Since then I have been to Ethiopia 25 or 30 times in different capacities. Over three or four years I was the lead negotiator for a company called SeaCom to install broadband high-speed internet capacity with Ethiopia's Ministry of Telecommunications. The internet cable started in Mumbai, India then went undersea to South Africa and up the East Coast to Egypt.

How about friends from your Peace Corps service?
To this day they are some of my closest friends. Our Ethiopia and Eritrea RPCVs have had reunions every two years for about 40 years. I organized a flight back to Ethiopia for over 100 of us in 1995. We are people who stay in touch on almost a daily basis on the internet, through our country of service affiliate or through our Facebook group.

Do you think we're living up to our Third Goal promise?
In my career working at the State Department, the Ford Foundation and in private enterprise on African development, I find that the greatest contribution America has made in international relations is through the impact Peace Corps volunteers have had in our universities and in foreign policy circles. Even though the agency couldn't ratchet up to a million volunteers as we once hoped, we have had an amazing impact both in this country and around the world.

Why do you give to the NPCA?
Given its size and limited resources, NPCA is doing an incredible job. They are doing things that reflect a lot of the brilliance of the outcome of the Peace Corps experience. From my perspective the real under-appreciated asset the NPCA has is Glenn Blumhorst as chief executive officer. He has made an enormous difference. My confidence and respect for Glenn and the staff he has assembled is one of the main reasons I give money to NPCA. If more of us provided this organization with greater financial resources, NPCA could do much more in my lifetime to create a more equitable world.
---