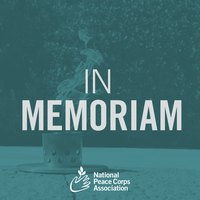 The Peace Corps community mourns doctors, a teacher and interpreter, and the "voice of Wisconsin Public Television" this month.

Chidinma "Chi" Ezeani (1989-2019) had recently been approved for a third-year extension as an agriculture Volunteer in Ghana. After suffering injuries sustained from an accident in her home, Chi died during treatment at a South African hospital. After graduating from the University of California, Riverside in 2011 with degrees in accounting and finance, Chi was hired by the financial firm Foresight ASG. During this time, she volunteered her services as an accounting and business consultant for several non-profit organizations in the San Francisco area. She also studied film at the San Francisco School of Digital Filmmaking and worked in film production.
Jeffrey P. Golden (1942-2019) was a master communicator and the voice of Wisconsin Public Television. As the grandson of refugees from Eastern Europe and Russia, Yiddish expressions peppered his everyday speech. He wrote poetry in both English and Spanish. He enhanced his language proficiency serving in the Peace Corps in Colombia from 1965-1966. Throughout his career, he produced Spanish language videos; wrote editorials in Spanish newspapers; and provided Spanish language outreach services. In his retirement, he served as a volunteer medical translator at Madison, Wisconsin's only free health clinic. His work in film resulted in awards from the John Muir Medical Film Festival, the National Educational Film and Video Festival, the International Film and Television Festival of New York, the Cine Awards, the Festival of the Americas, the Telly Awards and the Industrial Film Festival Award for Creative Excellence. Jeffrey also enjoyed being an actor in theater productions in Madison, Wisconsin, playing title roles in Macbeth, Who's Afraid of Virginia Woolf, and Fiddler on the Roof.
Madeline Kaufman Havrilla (1957-2019) studied abroad in Spain while she was a student at Indiana University of Pennsylvania in the 1970's. She became a Peace Corps Volunteer in the Dominican Republic. Following her service, Madeline traveled to New Orleans to earn her Master's Degree at Loyola University. She joined the U.S. Department of Labor, serving many years as an investigator to enforce labor laws. She became a union leader, serving her labor department colleagues as vice president and president of AFGE Local 2450. In her private life, Madeline led a Catholic women's foot washing protest in 1986, advocated for community health and environment issues in Pennsylvania with Sustainable Monroeville, and worked for education improvements within the Gateway School District.
Gordon Frederick Comstock, MD (1943-2019) believed in leaving his campsite – and the world – better than he found it. After graduating from Antioch College, Gordon joined the Peace Corps, teaching math in Ghana from 1966-68. He completed his medical studies at Case Western Reserve University and completed his residency at University of Rochester/Highland Hospital Family Medicine Program. Gordon was originally contracted for two years in a "doctor shortage" area; he and his family chose to stay and mentored medical students at his office and took them home for dinner. From 1989 to 2017, Gordon made 29 trips to La Laguna, Honduras as part of NY/HELP mission.
Dr. Dan Mackey, who provided healthcare as a Peace Corps Volunteer in Borneo, graduated from the University of Oklahoma and finished his medical education at the University of Virginia. Upon completion of medical training, Dan began a life of world travel, visiting more than 150 countries. At one point in his career, Dan was the head of the Dermatology department at the King Faisal Specialist Hospital in Riyadh, Saudi Arabia. A career in Atlanta began at the Center for Disease Control before opening his own practice. Dan was on the Medical School staff at Emory University; he served in the Emory clinic and trained dermatology residents.
Peter W. Bailey (1940-2019) served as a Peace Corps Volunteer in Thailand after graduating from Harvard University in 1962. He also worked for UNICEF. His career included teaching at the Texas Commission for the Blind in Tyler, TX; Notre Dame Special Schools in Irving, TX; and ESL for Dallas Community Colleges. Peter also worked as an interpreter in the Asian refugee project affiliated with El Centro College.
Below is our In Memoriam list for members of the Peace Corps community who recently passed away:
MULTIPLE COUNTRIES
Timothy John Belay (Albania; Mongolia) 10/12/19
Louis Giordano III (Ecuador 1999-2001; Panama 2009-10), 11/4/19
BOLIVIA
Nancy Sturdivant (1962-64), 10/25/19
CAMEROON
Richard Bartosiewicz, 10/22/19
Roberta Glaser (Kley) Carlsen, 10/29/19
CHILE
William Michael Murphy (1964-66), 7/19
COLOMBIA
Jeffrey P. Golden (1965-66), 9/30/19
COSTA RICA
Reta J. Holmgren, 11/1/19
Pedro Lujan (staff), 11/11/19
DOMINICAN REPUBLIC
Patricia Anton, 11/12/19
Madeline Kaufman Havrilla (1980-83), 11/16/19
John Kevin Murphy (1966-69), 9/8/19
Virginia Streator (1969-71), 11/9/19
ECUADOR
Joan Ward, 10/19/19
ETHIOPIA
Wyn Tunnicliff (1966-68), 10/9/19
FEDERATED STATES OF MICRONESIA
Melba Lucille Shepard (1988-90), 10/30/19
GHANA
Gordon F. Comstock, MD (1966-68), 10/25/19
Chidinma Ezeani (2017-19), 10/26/19
Ronald Kenneth Maxwell (1963-65), 10/7/19
GUATEMALA
Therese Marie "Teri" (Mignard) Duffy, 6/25/19
JAMAICA
Bernice Marie Stainbrook (1990-92), 11/9/19
KIRIBATI
Lela Mayberry (1984-86), 10/29/19
KYRGYZSTAN
William Joseph Heaphy (1994-96), 10/20/19
LIBERIA
Jay D. Griffing (1967-68), 9/25/19
MALAYSIA
Dan Mackey, 11/8/19
NAMIBIA
Jennifer Schlecht, 11/6/19
ST. LUCIA
Sidney A. (Sid) Patchett III (1969-72), 9/18/19
SAMOA
Barbara Mannella, 10/17/19
SOUTH KOREA
Michael S. Kraskowski (1970-72), 11/16/19
TANZANIA
George Lewis Edgington (1963-66), 11/9/19
THAILAND
Peter Welles Bailey, 10/31/19
Armin Richard Konrad, 10/14/19
UKRAINE
David Patrick Phelps (2005-07), 10/28/19
COUNTRY OF SERVICE NOT SPECIFIED
John Osborne, 11/10/19
Joyce Stone, 10/22/19
Donald M. Witlin, 10/26/19

If you have information you would like to share for our monthly In Memoriam post, contact obituary@peacecorpsconnect.org.
Thanks to Betty Pyle for her assistance in preparing this month's In Memoriam page.
---