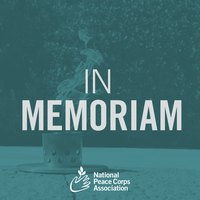 We mourn the loss of Returned Peace Corps Volunteer Chelsea Decaminada, who died from injuries sustained during recent terrorist attacks in Sri Lanka. We also honor community leaders whose service impacted so many lives, both here in the United States and abroad.
Chelsea Decaminada, an international program specialist on assignment for the U.S. Department of Commerce, died May 4 due to injuries she sustained during terrorist bombing attacks on Sri Lankan churches and hotels on Easter Sunday. "Chelsea devoted her life to public service, and her dedication and spirit were a model for all of us at Commerce," said Secretary of Commerce Wilbur Ross. After Chelsea earned her bachelor's degree from Duke in 2015, she became a Peace Corps Volunteer in Tanzania. She was fluent in French and Swahili. U.S. Ambassador Alaina Teplitz posted about Decaminada: "We pay tribute to Chelsea—and all those lost and injured—by partnering with Sri Lanka and nations around the world to bring unity in the face of terrorism."
Rodolfo Mendez (1945-2019) danced in New York City after his high school training in ballet, flamenco, and folkloric dance, but his Peace Corps service in Costa Rica (1966-68) profoundly affected his path to Austin, Texas, where he founded the trailblazing Ballet East Dance Company. Rudy was inducted into the Austin Arts Hall of Fame in 2006. In 2004, the National Endowment for the Arts honored Ballet East for its Dare to Dance program. East Austin nonprofit People Organized in Defense of Earth and Her Resources (PODER) honored Mendez with the Cesar E. Chavez "Sí Se Puede!" Award for his commitment and dedication to the community. Other honors included the Award of Excellence from the Emma S. Barrientos Mexican American Cultural Center, as well as being named one of Austin's Trailblazers by the Austin History Center.
Kathy Sue Kasprisin (1954-2019) lived a life of service, impact, adventure, inspiration, and love. Kathy earned a bachelor's degree from Auburn University, a master's degree in International Development from the School for International Training, and was awarded a Fulbright Scholarship through the Lyndon B. Johnson School of Public Affairs and Latin American Studies. Her commitment to service began as a Peace Corps Volunteer in El Salvador from 1977-79. She returned briefly to the United States to lead initiatives for FEMA, Planned Parenthood, and Proyecto Libertad. In 1985, Kathy returned to El Salvador as a Program Officer for Save the Children during negotiated peace breaks between the Salvadoran military and FMLN forces. The United Nations Children's Fund (UNICEF) recruited her to serve as Deputy Commissioner in Belize from 1989-1993. Kathy was an especially accomplished triathlete, but, while swimming off the coast of San Pedro, Belize she was struck by a motorboat in 1993. Despite profound mobility and speech impairment following the accident, Kathy went on to serve as a VISTA volunteer in Austin, Texas, Commissioner for the Austin Mayor's Committee for Persons with Disabilities, Board Member for the Returned Peace Corps Volunteers, and a Consultant for the Johnson Scholarship Foundation.
Lourdes Maria Monserrat (1947-2019) was born in Havana, Cuba, where she excelled in swimming and represented Cuba in the Pan-American games in Chicago in 1959. At the time of the Cuban Revolution, Lourdes and her family were forced to leave Cuba and eventually settled in Albuquerque, where they built a new life in New Mexico. Lourdes graduated Summa Cum Laude from the University of Albuquerque. Lourdes and her brother Bernardo served as Peace Corps Volunteers in Honduras. After a second stint with Peace Corps in Africa, Lourdes returned to New Mexico. She moved to a ranch in Santa Fe, where she adopted foster children, became a Big Sister, started a summer camp, volunteered at an animal shelter, and became a member of the Santa Fe Buddhist Center. Lourdes was an avid student of politics and public affairs. In addition to being a licensed New Mexico practicing attorney and having a master's degree, she completed all but her PhD dissertation in Latin American studies. She had a position on Governor Jerry Apodaca's staff, and served two stints in D.C. on behalf of New Mexico.
Raymond A. Willem (1936-2019) was a retired professor of mechanical engineering, champion of charitable causes, and devoted nature enthusiast. He earned his bachelor's, master's, and PhD from the University of Illinois. Ray's teaching career spanned 35 years and 4 countries. Beginning in 1962, he taught physics, mathematics, and mechanics as a Peace Corps Volunteer in Nigeria. He later taught at the University of the Americas in Cholula, Mexico, the University of Nairobi in Kenya, and at the New Mexico State University. Some of Ray's proudest achievements included his design work on artificial hearts for IBM in 1965, and his development of micro-lens grinders for endoscopic surgery at Karl Storz Endovision from 1991-1993. He also conducted research for the U.S. Naval Laboratory in Washington, D.C., and for NASA at the White Sands Test Facility near Las Cruces, New Mexico.
Barbara Jean Keegan (1941-2019) was born and raised in Montana, attending Eastern Montana College and then began teaching in the towns of Sydney and Hamilton. In 1966, Barbara began her Peace Corps service in Panama, where she traveled the country teaching youth and met her husband, John Keegan. The two began a family and moved to Nicaragua to help with humanitarian efforts following a devastating earthquake in 1972, only returning to America in 1977 so that their children could attend American schools. The family started a small farm in New Hampshire, and Barbara worked part time as a church secretary, bookkeeper, and librarian. She started a summer reading program for local readers and authors of all ages, taught Sunday school, served on the County Advisory Council, and formed the Boscawen Agricultural Commission.
Timothy Jon Lathrop (1948-2019) completed his bachelor's degree at the University of South Florida and his master's degree at the University of Hartford. After college, both Tim and his wife Judy served in the Peace Corps in Liberia for three years, where their son Jeffrey was born. Tim taught sciences in the Nursing and Medical Schools in Monrovia, and he also established the country's first EKG unit. He helped start the first Nursing School program and administrating JFK Hospital in Liberia. Leaving the country due to the civil war, Tim moved the family to be part of a biomedical device company, Medtronic, where he spent 31 years as a manager. Early in his retirement, Tim found a passion for walking; he walked 900 miles in Florida and completed a total of 16 Grandma's Marathons.
Below is our In Memoriam list for members of the Peace Corps community who recently passed away:
PEACE CORPS STAFF
Robert Allan Brown (1964-2002), 5/3/19
Susan Doolittle, 5/4/19
Theodore Kroeber, 2/26/19
Ruth Elaine Lagerberg, 4/12/19
MULTIPLE COUNTRIES
Lourdes Maria Monserrat (Honduras, unspecified country in Africa), 3/26/19
James A. McGowen (Nigeria 1966-67; Kenya 1967-68)
Joan Wuehler (Niger 1988-90; Lesotho), 4/19/19
AFGHANISTAN
Brigitte Broetz Hamilton (1965-67), 4/2/19
BOLIVIA
Kevin Patrick Lynch (1967-69), 3/8/19
BRAZIL
Arlene Reny Mayhugh (1964-66), 5/4/19
Roberta F. Varner (1963-65), 1/13/19
CHILE
Helen Josephine Caspar Quistorff (1967-68), 4/20/19
COSTA RICA
Wendy Martin de Mora (served in early 70's...death reported in early 2019)
Rodolfo "Rudy" Mendez (1966-68), 5/5/19
COTE D'IVOIRE
Nicholas Gaines Augustus IV (1970-72), 4/21/19
EL SALVADOR
Kathy Sue Kasprisin (1977-79), 4/2/19
GHANA
Helen Heard Etheridge (1988-89), 4/29/19
Cindy Scott-Harpin (1982-85), 4/12/19
Robert Arthur Yawin Sr. (1971-73), 4/21/19
INDIA
Burl LeRoy Reading (1962-64), 4/8/19
IRAN
Judith Dg Strohl (1962-64), 4/30/19
JAMAICA
Janet H. Sledge (1966-68), 3/6/19
LIBERIA
Timothy Jon Lathrop, 3/30/19
MALAWI
Cindy Cardenas Buecker, 4/28/19
NEPAL
Beverly Heegaard (1962-64), posted 4/29/19
William Francis Salisbury (1991-93), 3/9/19
NIGER
Michael Donel Bettler (1967-69), 3/28/19
Edward A. Porter (1962-64), 4/30/19
NIGERIA
Gracia Elizabeth "Hobson" Hiatt (1966-68), 10/13/18
Margot Butterfield Siekman (1963-66), 4/16/19
Barbara Ladi Terry (1968-70), 1/13/19
Dr. Raymond A. Willem (1963-64), 4/11/19
PALAU
Lawrence Beauchamp Jr. (1966-69), 3/28/19
PANAMA
Barbara Jean Keegan (1966-69), 4/12/19
PHILIPPINES
Bonnie Heimbuch (1986-88), 4/16/19
SENEGAL
Patricia "Poppy" Lark (1963-65), 4/23/19
SOLOMON ISLANDS
Lawrence F. Piper (1976-78), 4/20/19
SURINAME
Bellaire Ballard Krudop (1998-2000), 8/24/18
TANZANIA
Chelsea Decaminada (2016-18), 5/4/19
TURKEY
David Bloch (1963-65), 4/14/19
COUNTRY OF SERVICE NOT SPECIFIED
Brenda Lee Chang, 3/13/19

If you have information you would like to share for our monthly In Memoriam post, contact obituary@peacecorpsconnect.org.
---