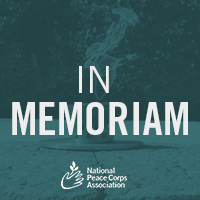 Those who enter the field of nursing are naturally caring and empathetic. It's not surprising that those qualities, coupled with the vast needs for health care around the world, bring many nurses to the Peace Corps. Included among those members of our community who recently passed away were several dedicated nurses whose work was noteworthy in the United States and overseas.
The nursing career of Marguerite Mary (Dean) Armstrong (1920 - 2018) began in 1942 upon her graduation from Burbank Hospital School of Nursing in Fitchburg, Massachusetts. She traveled west for her first nursing position, working at the American Indian Reservation in Parker, Arizona. Upon completion of her postgraduate degree programs, Marguerite turned her attention from nursing to nursing education. She taught in the L.P.N. program for Practical Nurses at David Hale Fanning Worcester Vocational School. While there, she wrote and procured the grant for the first E.M.T. program in Worcester. In recognition of her work, Marguerite received the Key to the City in 1981. Marguerite's last position was Dean of Health Occupations at Worcester Technical Institute on Bell Hill. Nursing and health remained central to Marguerite's life after retirement. She was a dedicated volunteer with the Visiting Nurses Hospice Association in Worcester and was a founding member of the Rose Monahan Hospice Home. Her care for others extended to other nations as well. This included a decision in 1990, at the age of 70 to become a health educator with the Peace Corps in Ghana. She also volunteered on a health mission to the Ural Mountains in Russia to help care for the stricken children who had been sickened by the Chernobyl nuclear explosion.
Born and raised in Minnesota, Patricia (Griffiths) Prevetz (1921-2018) graduated from St. Mary's School of Nursing in Minneapolis in 1945. She would later move to to Walnut Creek, California, where she resided for 63 years. A longtime employee of Kaiser Permanente, Pat developed a range of specialties, including emergency care, head nurse of Pediatrics, and Advice nursing. At age 58, she joined the Peace Corps and served in Liberia, providing health care and education for mothers and infants. When she returned home she continued her volunteer work with Leftovers Thrift Shop in Walnut Creek, whose proceeds supported the Contra Costa Crisis Hotline. As an active member of the Walnut Creek Masters Swim Team, she competed well into her 90s, setting National records and was on the podium at The Worlds in 2006.
Another nurse, Anne Marie (Elkins) Jensen (1937 - 2017) earned her nursing degree at Keuka College in Keuka Park, NY. In 1961, Anne joined the first wave of Peace Corps volunteers to serve in India. She assisted local villagers in creating a successful tool-making shop - the largest industrial shop in the area - making farm implements and hand tools for surrounding villages. Towards the end of her service, her project was featured on the cover of Span magazine, published by the US Embassy in New Delhi. Anne's service continued upon her return home, as she joined the American Friends Service Committee, fighting for housing and voter rights for minority populations. In 1971, Anne became the one and only school nurse in eastern Oregon's Mead School District, where she served until her retirement in 2000.
He was Peace Corps' Country Director in Thailand during the late 1960's and early 1970's. That was far from the only connection Julio "Andy" Andrews had with the region. The majority of his career was spent at The Asia Foundation, where he made many important contributions to the organization over three decades. Andy served as country representative in Pakistan, Nepal, the Pacific Islands, the Philippines, Vietnam, and Malaysia. He will especially be remembered for this work to establish the landmark Conference of Chief Justices of Asia and the Pacific, a conference that still meets every other year and has done so for over three decades.
After serving with Naval Intelligence during World War II, Dr. Joseph Colmen (1920 - 2018) came to Washington, and eventually became Deputy Associate Director of the Peace Corps, joining Sargent Shriver in the early years of the agency. Dr. Colmen later served in the Johnson Administration as Deputy Assistant Secretary for Education in the Department of Health, Education and Welfare. An industrial psychologist, Dr. Colmen retired from public service and spent the next three decades as a private consultant, working on such projects as FAA air traffic controller selection and analysis of teenage smoking behavior.
Below is our In Memoriam list for members of the Peace Corps community who recently passed away:
STAFF
Joseph Colmen, 3/13/18
MULTIPLE COUNTRIES
Marguerite Mary (Dean) Armstrong (Ghana 1990-92; Russia 1997), 2/23/18
John Robert Shields (Botswana 1966-68; Turkey 1968-70), 2/7/18
BULGARIA
Barbara P. Wines (2002-04), 2/24/18
BRAZIL
John Hamilton (1967-68), 3/3/18
CHILE
Cathy Barnes (1978-82), 3/5/18
Christine Marie (Guilfoy) Cardenas (1975-77), 3/17/18
COTE D'IVOIRE
Lenore Paley Waters (1980-81), 11/28/17
ECUADOR
Robert C. Bentley, 3/7/18
Richard Pelczar (1964-66), 9/29/17
ETHIOPIA
John Andrew Goulet (1964-66), 2/7/18
GUATEMALA
Douglas Ewell Taber, 2/21/18
GUINEA
William M. Fittro (1963-65), 3/2/18
INDIA
Anne Marie (Elkins) Jensen, (1961-63), 12/13/17
JAMAICA
Marie Ripley, 1/3/18
KENYA
Anne M. Eskra, 12/17/17
LIBERIA
Patricia (Griffiths) Prevetz (1977-79), 3/2/18
MALAYSIA
Frederick Martin Arnold (1965-68), 3/3/18
Marcia Spock Page, 1/13/18
MICRONESIA
Bill Ryder (1966-68), 2/19/18
PAKISTAN
Edward Thomas Laughley, 2/26/18
PHILIPPINES
Father John M. Lagomarsino SSC, posted 2/25/18
Ronald Eugene Wallin, 2/7/18
SAMOA
Ann Elizabeth Gantt (1978-79), 2/18/18
SAINT KITTS AND NEVIS
Corinne Frances Manildi Thiebert, 2/15/18
SIERRA LEONE
Henry Barnes "Hank" Watson, 2/20/18
THAILAND
Julio "Andy" Andrews (Country Director), 3/4/18
TUNISIA
Elizabeth "Penny" White (1964-66), 3/1/18
TURKEY
Virginia Marie Schramm (1964-66), 2/14/18
VENEZUELA
Charles "Chuck" Schonfeld, 3/12/18
COUNTRY OF SERVICE NOT SPECIFIED
Joseph R. De Sousa, 3/10/18
David Edward Kipp, 3/13/18
Catherine Logan-Carrillo, 2/19/18
Michael J. Miller M.D., 2/12/18

---