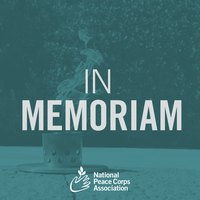 This month, we honor members of the Peace Corps community who have died, and also mourn the deaths of two serving volunteers who made the ultimate sacrifice while serving their nation.
Alan Hale died at age 80 following a bicycle accident in the Philippines where he was serving as a Volunteer in Southern Leyete province. He was working with local officials on waste management issues, conducting trainings for more than 2,000 people to address issues ranging from trash burning to littering. Alan was on his second tour of duty as a Peace Corps Response Volunteer, having begun his Philippines service in September 2017. His first work with Peace Corps actually began five decades earlier, when he worked as a training officer in Puerto Rico for three years in the 1960's. A longtime resident of Bellefontaine, Ohio, Alan played a key role in the development and expansion of the Logan County Solid Waste District. He also served his community as a former assistant Logan County prosecutor. He was an active member of Kiwanis International and Toastmasters International, and served on a number of boards, including the Logan County Art League.
Donovan Gregg of Beaverton, Oregon, was also on his second tour of Peace Corps service when he died following a July 23rd motor vehicle accident in Rwanda. Working as a Peace Corps Response Volunteer with his wife Jessica, Donovan was serving at a university in Kigali, training English teachers. The Greggs previously served as Volunteers in Ethiopia from 2014-2016. A graduate of Western Oregon University, Donovan received his TEFL-certification. He later earned a masters degree from the Willy Brandt School of Public Policy in Germany. Prior to his Peace Corps service, Donovan worked as an English teacher in South Korea, Afghanistan, and India.
John Hogan's (1938-2019) Peace Corps career began with service as a Volunteer in Venezuela in 1964. As reported by John Coyne in Peace Corps Worldwide, "Hogan was one of the very few PCVs who went against Shriver's direction and made the Peace Corps his career. He was a Volunteer in Venezuela 1964-66; Peace Corps Staff in Colombia 1966-68; Peace Corps Staff Burkina Faso 1979-82; and PC/HQ 1989-97. It was during this period in D.C. where he was briefly the Acting Director of the Agency, making him the first RPCV to hold that position in the Peace Corps".
Barbara Jeanne Coulston Struble (1943-2019) earned her bachelors degree in English from San Jose State University and later completed her masters and PhD studies in archeology at the University of California-Los Angeles. Barbara's full and fruitful life included serving as a Peace Corps Volunteer in Nigeria; an inner city school teacher of English, math and science; and a staff archeologist at sites in England, Mexico, Greece, Italy, the La Brea Tar Pits, and throughout the high deserts of Nevada and the Great Basin. Her many travels contributed to her being proficient in a half-dozen languages, including Igbo, French, Greek, and German. Other interests led Barbara to serve as a guide and counselor at Camp Curry, Yosemite, a gospel choir member, and a half-marathon runner.
Neil Jay Rovner (1946-2019) became an activist in 1964, protesting the exclusion of African-Americans from the Mississippi delegation to the Democratic Convention held in Atlantic City. Neil attended Lafayette College in Pennsylvania, graduating Phi Beta Kappa in 1968. He protested the Vietnam War while at Lafayette, and chose to serve his country by volunteering for the Peace Corps, where he was assigned to Micronesia. After returning from service, he earned masters degree in education from Temple University. While teaching at a high school during the day, he attended law school at Temple University at night. After admission to the Pennsylvania bar in 1975, Neil clerked for the Honorable Glenn E. Mencer on the Commonwealth Court. Neil's practice was devoted to plaintiff's personal injury, including medical malpractice and product liability. He was recognized as one of the "Best Lawyers in America" for 20 years, and in 2013 was named a Top 100 trial lawyer by the National Trial Lawyers. In 2014, he was selected by his peers as Lawyer of the Year in the Harrisburg area. Since 2005, Neil worked to ensure the legacy of Hope Springs Farm, a day program in Hershey he created with his wife to benefit their daughter and other adults with intellectual/developmental disabilities and autism. Hope Springs Farm provides their "growers" with the meaningful experience of tending organic crops and caring for animals.
George M. Kuhn's multifaceted career included volunteering in the Peace Corps at a teachers' college in Ciechanow, Poland from 1993-1996. Decades earlier, George had served our nation as a U.S. Coast Guard radioman from 1951-1954, mainly in the Pacific. In George's professional life, his creative career included a mix of newspaper journalism, writing ads and promotional materials, teaching, and even acting. After playing a major role in a Robert Altman feature film in 1956, he studied drama, thus opening doors to acting in university and community theater, commercials, and two more feature films. George finished his masters degree in creative writing at Queens College in New York. In retirement, he wrote songs with his son Bob, and got to record "Adios Lounge" with singer Tom Waits.
Below is our In Memoriam list for members of the Peace Corps community who recently passed away:
PEACE CORPS STAFF
John Hogan (Colombia 1966-1968; Burkina Faso 1979-1982; U.S. 1989-1997), 7/22/19
Frederick William Madison Jr. (U.S. early 1960's), 6/3/19
August Hale Vandermer (U.S. early 1960's), 4/18/19
MULTIPLE COUNTRIES
Donovan Gregg (Ethiopia 2014-2016; Rwanda 2019), 7/23/19
James Delbert Nelson (India 1963-1965; Colombia 1969-1970), 7/8/19
Lonny Rodgers (Somalia, Kenya 1968-1970), 3/18/19
BELIZE
Margaret Louise (Gowey) Botts (1994-1996), 6/26/19
CENTRAL AFRICAN REPUBLIC
Roberta Ann "Robbie" Hedeen (1985-1987), 7/18/19
CHILE
Joseph E. Martinez (1966-1968), 7/5/19
COLOMBIA
Don Lydic (1964-1967), 6/25/19
William Joseph Stowe (1963-1965), 7/8/19
COSTA RICA
Linda Korich, 5/30/19
Arne Landsberg (1964-1966), 6/30/19
CZECH REPUBLIC
Janice Swanson Moore (1993-1995), 6/13/19
DOMINICAN REPUBLIC
Tom Gittins (1967-1969), 7/16/19
ECUADOR
Rev. John Swanson Queen, 7/16/19
EL SALVADOR
Jack L. Schinstock (1970-1973), 7/10/19
GABON
Stephen McNutt, 7/5/19
GUATEMALA
Heather Knopp, 6/11/19
INDIA
Gloria Y. Katzmark (1965-1967), posted 6/30/19
IRAN
Thomas Bell Brigham (1969-1971), posted 7/10/19
James Harold Jensen, 7/11/19
JAMAICA
Elizabeth Rose Strickland, 6/16/19
MALAYSIA
William T. Winter (1966-1968), 6/30/19
MAURITANIA
Nancy Cheryl Fink Lower (staff), 5/14/19
MICRONESIA
Neil Rovner, 7/18/19
MOROCCO
Mary Ann (Seume) Cate (1965-1967), 6/30/19
NAMIBIA
Marjorie Turner (1993-1995), 7/13/19
NIGERIA
Frank E. Brockman, 7/10/19
Mitchell Adelbert Poling (1965-1967), 7/6/19
Barbara Jeanne Coulston Struble (1965-1967), 6/13/19
OMAN
Peggy Fender (1975-1977), 5/26/19
PERU
John Rose Dickson (1962-1964), 7/17/19
Louis Santangelo (1967-1969), 7/18/19
PHILIPPINES
Alan Hale (2017-2019), 7/11/19
Joan E. Landfield (1961-1962), 7/13/19
Dennis W. Lum, 7/7/19
Scott Rubenstein, 7/25/19
POLAND
George M. Kuhn (1993-1996), 7/12/19
ROMANIA
Jacqueline A. Stark (1992-1995), 7/3/19
SAIPAN
Judith Harriff Uherbelau (1966-1968), 6/24/19
SENEGAL
Kenneth M. Murphy (approx 1988-1991), 6/20/19
SOUTH KOREA
Ralph Victor Kaplan (1969-1971), 7/23/19
Joseph Fink Murnan (1972-1975), 6/29/19
THAILAND
Quentin Michael Sullivan (1968-1970), 7/4/19
TOGO
James "Tyler" Dickovick, 7/1/19
COUNTRY OF SERVICE NOT SPECIFIED
Virginia Ann Sagarski-Caldwell, 3/29/19

If you have information you would like to share for our monthly In Memoriam post, contact obituary@peacecorpsconnect.org.
Thanks to Betty Pyle for her assistance in preparing this month's In Memoriam page.
---