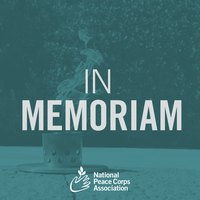 As the Peace Corps community mourns the deaths of Harris Wofford and Jason Spindler, who was killed in the January 15th terrorist attack in Kenya, we also remember the significant contributions of so many others who exemplify the spirit and ideals of Peace Corps service.
Jason Spindler (1978 - 2019) began his path to international service after the 9/11 terrorist attack in New York City. After earning a degree in international business and finance at the University of Texas, Jason accepted a position in New York's financial district with Solomon, Smith, Barney. Jason was among the many who responded courageously on 9/11, assisting with rescue efforts. This tragic event led Jason to the life-altering decision of serving others. That soon led him to an appointment with the Peace Corps, assisting farmers in Peru with international agribusiness projects. At the completion of his service, Jason returned to New York, where he attained a doctoral law degree in international development policy at New York University. After winning the Arthur Helton Global Human Rights Fellowship, he went on to co-found I-DEV International. I-DEV's work to assist with international business development grew to point where ten years later, projects have been established in 45 countries. Jason's work was recognized by the Clinton Global Initiative, the Gates Foundation, and the Rockefeller Foundation.
Thomas J. Weisner (1949-2018) served three terms as the Mayor of Aurora, Illinois. He moved to Aurora soon after marrying his wife Marilyn Hogan in 1973. Tom and Marilyn then joined the Peace Corps together in 1981, serving the native populations of the Solomon Islands. The couple worked together to assist with health and nutrition improvement projects. After returning home to Aurora, Tom continued his public service in city government. This would eventually lead to his election as Aurora's 57th mayor in 2005. Tom was the driving force behind countless initiatives that served the community, and remained an advocate for disadvantaged peoples and those with disabilities throughout his life. His work within the city gave him a platform to tackle regional, state, and national policies as well, and continue to advocate for the justice for those that are disadvantaged.
After receiving his bachelor's degree from Amherst College in 1961 and a master's in Public Administration from Princeton University in 1963, Richard Stanley "Dick" Wirtz (1940-2019) was hired to work for the Peace Corps and other government programs focused on fighting poverty. He then went on to earn his juris doctorate from Stanford University Law School, and eventually began a 30-year career at the University of Tennessee, becoming Dean of the College of Law. Dick named the first "E.E. Overton Distinguished Professor of Law" in 2000. He received numerous other awards and appointments, including an appointment to the Commission on the Future of the Tennessee Judicial System. Throughout his professional career, Dick maintained a strong commitment to volunteering, serving in a plethora of local, regional, and national groups, including community sports programs, hospice and visitation services, and progressive political organizations.
Christine Ness (1941-2018) was born in Chicago and received a primary education at the Brearley School in New York City, where she gained an interest in global affairs and the preservation of history in the U.S. and Europe. After graduating from the Brearley School, she attended Mills College in Oakland CA and later joined the Peace Corps with her first husband, serving in Monrovia, Libera. During her service, Christine held the honor of working as the librarian to the Liberian Supreme Court. Following her service, Christine returned to America to pursue a career in interior design in both domestic and international markets, as well as serving the Brearley School, the Royal Oak Foundation, and the Greenwich Library in various volunteer positions.
In his early years, Scott Skinner (1942-2018) was an active Boy Scout, becoming the youngest Eagle Scout in Pennsylvania history at the age of 13. He later attended the Lawrenceville School in New Jersey, where he was an accomplished athlete on multiple sports teams, editor of the literary magazine, captain of the chess team, president of his residence house, and received the top honors at graduation. After a year at a British boarding school, Scott enrolled in Dartmouth College and graduated with high honors. He spent two years serving the Peace Corps in Nepal where he taught English in a remote village, and indulged his passion for hiking, climbing over 18,000 feet on numerous occasions. Scott graduated from Columbia Law School in 1969 and became the first executive director of the newly created Vermont Public Interest Research Group (VPIRG). His belief in public service included strong runs for public office, including U.S. Senate and Vermont Attorney General. Scott served as executive director of the Vermont chapter of the American Civil Liberties Union beginning in 1980. He closed his career joining a law practice with friends Pat Biggam and Ron Fox in Montpelier.
Below is our In Memoriam list for members of the Peace Corps community who recently passed away:
PEACE CORPS STAFF
Hugh Edwin "Red" Meredith, 10/18/18
Richard Stanley "Dick" Wirtz, 1/3/19
Harris Llewellyn Wofford (1962-66), 1/21/19
MULTIPLE COUNTRIES
Lois Brodd (Grenada mid-1980's; Belize 1996-98; Uganda 2000's), 1/7/19
Lila Petersen Eisenhower (staff Afghanistan; El Salvador) 12/20/18
Benjamin R. Sumbera (Panama 1969-71; Ecuador 1971-72) 12/25/18
AFGHANISTAN
Samuel Ralph Farrah, 1/7/19
ARMENIA
Edward Hallock Ball (2005-07), 11/18/18
Donald Flumerfelt, 1/9/19
BENIN
Charles J.D. Stathacos (1974-77), 12/26/18
COLOMBIA
James Fish (1963-65), 1/9/19
ECUADOR
Sandra W. Berryman, 1/6/19
EL SALVADOR
Stephen T. Cockerham (1962-64), 12/30/18
Wayne "Randy" Randolph Smith, 12/19/18
FIJI
Richard Johnston (1979-81), 1/17/19
GHANA
Craig Frederick Anderson, 12/27/18
GRENADA
Jean Ferguson (1993-95), 12/8/18
GUATEMALA
Belle Melzer (1974-76), 12/28/18
HONDURAS
Don Hazlett (1970-75), 1/5/19
Timothy MacMillan, 1/3/19
LIBERIA
Christine Ness (1963-65), 12/30/18
NEPAL
Scott Skinner (1964-66), 12/15/18
NIGERIA
William N. Mathias II, 12/12/18
PANAMA
Harvey Williams (1964-66)
PAKISTAN
Fred D. Stottlemyer (1962-64), 12/25/18
PERU
Jason Jacob Spindler, 1/15/19
PHILIPPINES
Robert George Briggs (1965-68), 12/24/18
Alice Potosky, 12/29/18
Thomas E. Tibbott (1965-67), 12/27/18
SOLOMON ISLANDS
Thomas J. Weisner (1981-85), posted 12/30/18
THAILAND
Martha Lumbard Pridgen, 12/21/18
TOGO
Thomas Adams (1974-76), 10/21/18
TUNISIA
Ruth Mulvihill Noren, 12/17/18
TURKEY
Robert Baum (1965-67)
Ron L. Schie (1966-68), 12/18/18
COUNTRY OF SERVICE NOT SPECIFIED
Donald J. Ibeling, 1/11/19
Dr. Zelda Porte, published 12/21/18
Ronald P. Wallace, 12/25/18

If you have information you would like to share for our monthly In Memoriam post, contact obituary@peacecorpsconnect.org
---