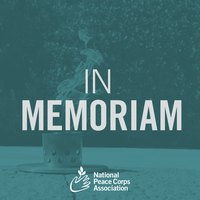 As 2018 comes to a close, we celebrate the lives of members of the Peace Corps community who recently passed away.
Educator. Public Servant. Activist. Charles "Chuck" Hitchcock (1939-2018) took on many important roles during his life. After graduating from Colgate University, Chuck served his country as an early member of the Peace Corps, serving in Bangladesh. After returning home he continued his studies, earning a masters in community studies and human relations at New York University, and a doctorate from Union graduate school. His dissertation on psychiatric attitudes towards homosexuality helped prompt the American Psychiatric Association to discontinue classifying homosexuality as being a disease. Chuck was a founder of Long Island's East End Gay Organization, which would grow to nearly 1,000 members. Over time, the group raised 100 thousand dollars to support AIDS research. From 1981- 83, Chuck served on the National Gay Task Force. A resident of East Hampton, Chuck served his community. He was chairman of the town Zoning Board of Appeals, was on the town preservation advisory committee, was a member of the Springs School Board and board director of The Retreat, a domestic violence agency. Chuck taught sociology at Southampton College for 35 years, and was dean of the college for five years. In 1999, he received the school's David Newton Teaching Excellence Award.
He was the first country director in Turkey. Prior to his Peace Corps service, David N. Weinman (1934-2018) served three years as an officer in the U.S. Navy and attended the University of Michigan Law School. From 1962 to 1967, Dave's leadership with Peace Corps' Turkey program saw the number of volunteers increase from 39 to just under 500. Dave continued his public service following Peace Corps, holding leadership positions with the Office of Economic Opportunity, the Department of Health, Education and Welfare, and the Office of Management and Budget. He was part of a team of specialists that helped shape and establish the U.S. Department of Education. After this impressive career in government, Dave started his own business, Ombud Inc., a service organization providing college advisory, mediation and consultation services.
Known to most as "Hal", David Harold Averett (1949-2018) was a huge contributor to communities all over the world. Hal grew up in Georgia, attending Georgia Tech to study architecture and later graduating from the University of Georgia. After receiving his degree, he went abroad with the Peace Corps, serving in Central and South American countries. After quite a few years, he went back to his home in Georgia and started his own building firm, D. Hal Averett Contracting, Inc. He got himself involved in as many things as he could. He was a significant member in many community organizations and projects. Some of these include things like Columbus Scholars, Safe House, Trinity House, Open Door Community, VIP, IFM, Trees Columbus and many, many more. He played a major influential role in the Riverdale-Porterdale Cemetery Foundation. Hal was also involved in a variety of church affiliated committees and organizations. Mr. Averett absolutely loved his community and many others as well. His commitment to helping others reached around the entire world, from Central America to South America and beyond.
He devoted much of his life to public service, with a focus on land preservation. But first, and soon after marrying his college sweetheart, James Clifton Crain (1946-2018) and his wife Carol left Iowa State University and joined the Peace Corps, serving in Guatemala. Following their service, they moved to New Mexico where James secured his master's degree in public administration from the University of New Mexico. James was hired by the city of Albuquerque, where he purchased land for open space, easements and parks. The next stop was Colorado. After a short stint with the city of Lakewood, James settled into the position of Open Space Director for the city of Boulder. During his 23 years in this role, the acres of protected land nearly quadrupled, from 9,200 to more than 34,000 acres. For these efforts, a plaque in Boulder honors James' work to protect and preserve the beauty of Colorado's Front Range. He won a number of awards, including the 2000 and 2001 Colorado Coalition of Land Trusts Award of Excellence, and the 2007 Outstanding Individual Achievement award from the Colorado Open Space Alliance.
Soon after graduating from the Mt. Auburn School of Nursing in 1963, Catherine O'Brien-Haskell (1943-2018) joined the Peace Corps, serving in Malaysia. She went back to school following her service, attaining a BS in Nursing from the University of New Hampshire. Catherine worked in various capacities in the Boston area, including the Visiting Nurse Association and Boston Healthcare for the Homeless. Catherine was an active volunteer in her community, supporting the Special Olympics, Salvation Army, the Unitarian Universalist Church and the Ethical Society of Boston.
Below is our In Memoriam list for members of the Peace Corps community who recently passed away:
PEACE CORPS STAFF
John "David" Zielinski, 11/30/18
MULTIPLE COUNTRIES
Douglass Dewey (Nigeria, 1966-1967; Kenya, 1969), 10/8/18
Jeffry Spyhalksi (Sierra Leone; Togo, 1978-1985)
ARMENIA
Edward Ball (2005-2007), 11/18/18
BANGLADESH
Charles Hitchcock (1961-63), 10/24/18
BOTSWANA
Jorge Angelo Alfaro, 11/29/18
Margaret "Margie" Snively (1991-93), 11/9/18
COSTA RICA
Janice Purington (1964-1966), 11/13/18
GHANA
Kevin John Brady, 11/16/18
Theodore "Tom" Taylor Jr., 11/14/18
GUATEMALA
James Clifton Crain (1968-71), 12/9/18
Ann Elizabeth Heffernan (1980-83), 12/12/18
JAMAICA
Marilyn Ruth Mitchell Jones (1991-1994), 11/24/18
MALAYSIA
Catherine O'Brien-Haskell (1967-69), 12/11/18
MOROCCO
Stephen Osborne (1968-1970), 11/23/18
Steve Nelson, 11/24/18
NAMIBIA
David Christopher Berryman Merritt (2016-18), 11/14/18
PERU
Charles Vasquez, 10/30/18
SENEGAL
Julia "Judy" Gamble (1989-1992), 11/27/18
SIERRA LEONE
Jack Johnston (1962-64), 11/7/18
SOUTH KOREA
Frances Lillian Kendall (1978-1980), 11/21/18
SWAZILAND
Janyth Pomerville (1991-1993), 11/23/18
TURKEY
David N. Weinman (Country Director 1962-67), 12/15/18
COUNTRY OF SERVICE NOT SPECIFIED
D. Hal Averett, 11/28/18
Noel F. Dudley, 12/7/18
R. Denning Gearhart (served 1973-74), 12/11/18
Guy Manley III, 11/27/18

If you have information you would like to share for our monthly In Memoriam post, contact obituary@peacecorpsconnect.org
---