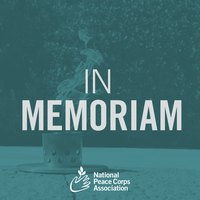 We honor Returned Peace Corps Volunteers and former staff we lost in the last several weeks who served our nation so well. Among those we mourn are an administrative law judge from Washington D.C., a community leader from Arizona, and a former congressman from Wisconsin.
Jim Moody (1935-2019) worked for the Peace Corps, setting up programs in Pakistan and Bangladesh, before coming back to work at Peace Corps headquarters. Moody worked for Yugoslavia and Iran for CARE, for the U.S. Agency for International Development, and served in the House of Representatives from 1983 through 1992. Congressman Moody entered politics at the state level, serving in both chambers of the state legislature. During his five terms in the U.S. House of Representatives, Moody is remembered for being one of the sponsors of a single payer universal health care system. He opposed the Persian Gulf War during the administration of George H.W. Bush, supported a constitutional amendment to balance the federal budget and was a supporter of gay rights and the legalization of marijuana. Congressman Moody left Congress after an unsuccessful bid for the Senate. He returned to teaching at the Medical College of Wisconsin and the University of Maryland. He closed his career serving as Chief Financial Officer for the United Nation's International Fund for Agricultural Development, and as president of InterAction.
Alexandra "Sandy" Keith joined the Peace Corps and served as an educator in Thailand. Sandy came back home to earn a master's degree in International Relations from the Fletcher School. She joined the State Department and returned to Southeast Asia, this time as a Foreign Service Officer at the U.S. Embassy in Saigon, Vietnam. Upon returning to the U.S., she again earned her law Degree from Georgetown. She held positions with the D.C. Corporation Office of Counsel, followed by various offices of Inspectors General. She was appointed as an administrative law judge for the government of the District of Columbia. Sandy served as an election monitor during post-war elections in Bosnia and Serbia. She was also a longtime board member of the Friends of Thailand, an NPCA affiliate group.
Robert Dean "Bob" Cleary (1940-2019) became a captain in the U.S. Army Veterinary Corps in Fort Dix, New Jersey from 1964-66. He moved with his family to Menomonie, Wisconsin, where he continued a three decade career in veterinary medicine. While injuries forced the end of his practice, Bob was able to continue service as a volunteer, first in 2000 as an animal production specialist with the Peace Corps in Cajabamba, Ecuador. From there, he assisted the U.S. Department of Agriculture on projects in California and England, worked with the American Veterinary Medicine Association on a project in Mexico, and served in the Farmer to Farmer program in Guatemala. Along with assignments around the world, Bob was an active volunteer stateside, working with the American Red Cross on hurricane relief, AARP as a tax preparation volunteer, a GED math-tutor, and the Menomonie Veteran's Honor Guard. Bob served on a number of boards in Dunn County, including the County Electric Cooperative, the local Chamber of Commerce, and branches of the American Heart Association and the American Cancer Society.
Jean Wooten Stewart (1925-2019) lived most of her life in Arizona. She attended Glendale Community College, Arizona State University, and Northern Arizona University. Jean taught at the San Carlos Apache Reservation, then enlisted in the Peace Corps in the Philippines before retiring and eventually serving as President of the Buckeye Valley Literacy Association. Jean spent the remainder of her life helping others: she co-founded the Southwest Volunteers Services and was a member of Estrella Toastmasters Club, Maricopa County United Way, the Southwest Community Way, and Three Rivers Historical Society among others. Jean studied and taught art throughout her life, as well as being a prolific writer, publishing her final book entitled "Peace Corps @ 62" this year.
Brenda Rodgers (1937-2019) was born in St. Louis, and worked as a dental assistant before obtaining a degree in dental hygiene. She enlisted in the Peace Corps, where she served in the slums of Rio de Janeiro and worked to improve women's role in society. Upon returning to the U.S., Brenda obtained a graduate degree in Public Health and went to war-torn Vietnam to work as the Public Health advisor to the Mayor of Saigon, where she met her husband. Brenda spent the following 17 years traveling the world with her military husband, taking positions in Korea and Alaska. In retirement, she focused on writing, having many of her pieces printed in both American and Vietnamese magazines.
Thomas Redyard Wilson (1941-2019) knew he wanted to be an architect from a young age. Born in Tennessee, he moved to Texas to study architecture at Rice University, a passion that allowed him to express his creative side while making a difference in people's lives. After graduation, he met his wife and the two enlisted in the Peace Corps where they served together in Tunisia. Thomas worked on bringing Arabic aspects to the architecture there, where the population wanted classic "American" styles as per what they saw on TV. Returning to the United States, Thomas moved to Texas with his wife and started a family, pursuing a 50 year career as an architect in Texas, Oklahoma, and Canada.
Below is our In Memoriam list for members of the Peace Corps community who recently passed away:
PEACE CORPS STAFF
Robert B. Binswanger (1961-63), 3/16/19
Judith E. Jones (Tunisia, Morocco), 3/13/19
Jim Moody (Pakistan, Bangladesh), 3/22/19
Brenda Rodgers (Brazil 1966), posted 3/31/19
MULTIPLE COUNTRIES
Catherine Julia Gantz (Philippines 1981-83; Sierra Leone 1984-85; US Staff 1986-91), 3/23/19
Steven Edwin Jones (El Salvador 1966-68; Nicaragua 1968-69), 3/25/19
Linna Ward Marder (Korea 1967-69; Belize 1974-76), 4/6/19
ANTIGUA
Robert L. Sutton (1980-83), 3/20/19
BOLIVIA
Hardy Jones (1966-68), 12/18
BRAZIL
Kenneth C. Mohr Sr. (1961-64), 4/14/19
DOMINICAN REPUBLIC
Richard M. "Dick" Pomeroy (1986-87), 3/16/19
ECUADOR
Robert Dean "Bob" Cleary, 4/2/19
GUATEMALA
David Charles Thompson (1971-74), 3/26/19
HONDURAS
Michael Thomas Dellinger, 4/2/19
Rosemary K. Kastner (1977-79), 2/10/18
INDIA
Walter W. Greist, 3/25/19
Patricia Smyers Hansmann, 2/1/19
KENYA
Pierre Hathaway (1997-99), 3/17/19
MALAWI
Bruce Ripley Clark (1964-66), 3/18/19
Christina Burr Lahy, 4/4/19
MARSHALL ISLANDS
Larry Allen Jones (1967-69), 3/17/19
MICRONESIA
Arturo "Dennis" Montoya (1980-83), 2/17/19
NEPAL
John Battalana (1973-77), posted 4/2019
Eric Bulmer (1994-97), 1/27/18
Dr. Susan LaForest, 3/24/19
Lucy Sotar (1964-65), 6/4/18
NIGERIA
Anne Windsor Beaman PsYD Ph.D. (1963-65), 3/27/19
PHILIPPINES
Charles Verne Parham, 3/27/19
SOLOMON ISLANDS
Bruce E. Ferguson (1972-75), 3/23/19
THAILAND
Alexandra "Sandy" Keith (1965-67), 4/10/19
TUNISIA
Thomas Redyard Wilson, 3/25/19
TURKEY
Joan Montez Phillips, 3/20/19
William Taylor, 11/21/18
YEMEN
Carol Borge Reitz (1976-78), 4/13/19
COUNTRY OF SERVICE NOT SPECIFIED
Patrick Hughes Hetrick, 3/26/19

If you have information you would like to share for our monthly In Memoriam post, contact obituary@peacecorpsconnect.org.
---