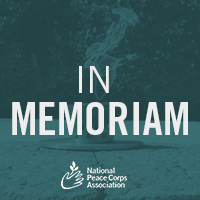 Whether at high schools or on college campuses, whether the subjects be vocational education or city planning, people who served in the Peace Corps are scattered throughout our educational landscape. Several dedicated RPCV educators are among those who recently passed away.
John Vernon Morice (Jack) Gibson (1938 - 2018) majored in Romance Languages at the University of Virginia and then went on to get a Master's in Regional Planning from Cornell University. Jack put his degrees to good use while serving in the Peace Corps in Colombia. After his service, Jack continued to serve his community by taking on a number of city planning positions around the country, including Chief of the Long Range Planning Division in the city of Memphis. He went on to teach city planning at the University of Memphis, and was instrumental in getting a graduate program certified. He also taught at Florida State University, and assisted the Citizens to Preserve Overton Park in preventing an interstate highway from running through the park. John's civic engagement included serving as founding Chair of the Beale Street (Memphis) Development Corporation in 1973. He also served as President of Big Brothers/Big Sisters, the Economic Club of Memphis and chair of the board for the Salvation Army.
A world traveler and seasoned teacher, Cheryl Ann Hanson (1950 - 2018) served with her husband as Peace Corps Volunteers in Afghanistan. After a number of additional years overseas, Cheryl and her family settled in Sonoma County, California. Armed with a master's degree in education from Lesley University, she was hired in 1984 as adjunct faculty in the English Department at Santa Rose Junior College. She later moved to the Basic Skills and Vocational Projects Department, where she taught job skills to economically disadvantaged students. From this beginning, she became one of two full-time faculty members, growing the program into a community college model in developmental education. She became chair of the department, serving in that position for eighteen years, growing the department to seven full-time and forty adjunct faculty.
Lawrence Cabot Howard (1925 - 2018) was a lifelong scholar and traveled the world in many different capacities. After serving in World War II, Lawrence received degrees from Drake University, Wayne State University and Harvard. Lawrence went on to teach at Hofstra University and Brandeis University. His growing interest in development work led to his appointment as Associate Peace Corps Director in the Philippines. This was followed by additional opportunities in development and education, including associate director of the Center of Innovation in New York, the Institute of Human Relations at the University of Wisconsin, Vice President of the Danforth Foundation and Dean of the Graduate School of Public and International Affairs at the University of Pittsburgh. Upon retirement, he continued his interest in development work in Sub-Saharan Africa, served as a Fulbright Scholar and worked with the government of the Bahamas as a consultant assisting with public administration policy management.
She was a global citizen prior to her Peace Corps service in Nigeria. Sarah Ann "Sally" Holden Thompson (1935 - 2018) graduated cum laude from Radcliffe College and immediately began working in France. She then moved to Tehran to serve as the social secretary to the wife of the U.S. ambassador to Iran. While in Tehran, Sally worked at a beggar's orphanage and helped many children. Sally returned to the United States to earn her Master's degree from Teacher's College, Columbia University, and then taught at multiple high schools. She used this teaching experience in Nigeria, where she was a Peace Corps Volunteer. While in Nigeria, she taught at a teachers' college and authored the textbook "The Foundations of Modern Civilization." Sally continued to work for the Peace Corps at the Washington, D.C. office. Later, she worked for other organizations including Planned Parenthood and Community Living Toronto.
Peace Corps service in Colombia was a first step that led to the 25 year foreign service career for Weldon Dwayne Burson (1938 - 2018). Weldon joined the State Department in 1965. Along with his country of Peace Corps service, Weldon was stationed in Canada, Venezuela, Mexico, Brazil, Italy and Norway, holding positions including Economic Counselor and Deputy Chief of Mission. He also spent many months in Africa and Asia as a Department of State Inspector. Upon retirement, Weldon served as president of the International Banknote Society, and was inducted into the Society's Hall of Fame in 2014.
Born and raised in Georgia, Robert (Bob) L. Travis Jr. (1939 - 2018) received his Bachelor's from Atlanta's Clark University. While a student, Bob participated in a sit-in, was jailed and put in the same cell as Martin Luther King's brother, A.D. After college, Bob served with the Peace Corps in Ethiopia and in the military in Vietnam. When he returned home, Bob studied law at Howard University. He became the first statewide director of Florida Legal Services. He also served as Executive Director of the Division of Community Services and Executive Director and Founder of Florida Rural Legal Services.
Betty Mae Ridley (1923 - 2018) was a lifelong volunteer who understood the importance of service to her community. Betty completed her nursing degree in Prescott, Arizona at the top of her class. After graduation, she worked as a nurse on Indian reservations in Alaska and Arizona. Betty decided she wanted to continue to serve and see the world, becoming a Peace Corps Volunteer. She completed not one, but three tours of service in Fiji, Haiti and Paraguay. After returning home, Betty moved to Boise, where she continued to volunteer at the Veterans Administration and the local senior center. She was also an active volunteer at the Learning Lab and the Boise Public Library.
Below is our In Memoriam list for members of the Peace Corps community who recently passed away:
STAFF
Harrison Gregg, 4/2/18
Virginia Pearl Orr (1967-89), 2/27/18
MULTIPLE COUNTRIES
Betty Mae Ridley (Fiji; Haiti 1991; Paraguay 1992-94), 4/1/18
AFGHANISTAN
Cheryl Ann Hanson (1974-76), 3/19/18
BELIZE
Lloyd Gene Anderson, 3/17/18
BRAZIL
Saundra Carter McDonald (1962-64), 4/8/18
BURKINA FASO
Mary Kay C. Landis (2007-10), 1/26/18
COLOMBIA
Weldon Dwayne Burson, 4/3/18
John Vernon Morice Gibson (1962-65), 3/24/18
Pamela Sue Haines, 4/10/18
ETHIOPIA
Pamela Ann Noble, 2/1/18
Robert L. Travis Jr., 3/19/18
GHANA
Richard Coyne, 4/5/18
GUATEMALA
Dorothy F. Adelman, 3/30/18
INDIA
Robert P. Harrington, 4/7/18
IRAN
John C. Patterson, 4/8/18
Darryl Alec Spencer, 3/9/18
Joseph W. Toussaint, 3/23/18
JAMAICA
Ramona Grace (Sartwell) Seeley (1992-94), 4/5/18
KENYA
Carol Ketchum Schmidt (1975-76), 3/14/18
MALAWI
John Rockwell "Rocky" Smith (1972-74), 1/6/18
MALAYSIA
Dr. Robert F. Dendy, 4/14/18
NAMIBIA
John Andrew Krispinsky, 3/20/18
NIGERIA
Sarah A. Thompson, 3/20/18
PHILIPPINES
Lawrence Cabot Howard (Staff 1961-63), 3/26/18
Cerefino "Sonny" Macaraig Jr. (Staff), 4/7/18
Richard Bernard McGinn Jr., 3/26/18
SENEGAL
Gerald Davey (1962-64), 4/1/18
SOUTH KOREA
Bruce Butterfield, 4/15/18
UZBEKISTAN
Allen Fine, 3/26/18
VENEZUELA
Mark Frances (1964-66), 4/6/18
COUNTRY OF SERVICE NOT SPECIFIED
Bill Monroe Hager, 4/3/18
Paul Crane Robbins, Posted 3/27/18
James J. Stanley, 3/28/18

---